Chris Jordan Media All-Star Radio Mentorship 2021 – 2022
2021 sees the first year of a first in South Africa.
Chris Jordan Media will bring broadcasting veterans together that will reach out to mentor 3 immaculately talented rising stars.
Chris said, "I got tired of waiting for stations around the country to step up and take full mentorship roles for our next generation of broadcasting practitioners. So, I made some calls, interviewed some candidates, and made this initiative happen. The radio industry is small in South Africa, but, it is also like a "clique", which pushes away the growth of new talent
We look at a lot of commercial stations that should be running training slots for well-skilled community broadcasters but instead automate those slots.
It makes no sense. Whatever the semantics may be.
With this initiative, we want to mentor rising stars in all aspects of being greater than just a voice behind a mic. From brand identity to social media presence to content creation, to voice training, to community giveback – we are going to give these girls the whole package. And they will over the next build solid infrastructures of presence and industry offerings that are going to rival the best in upcoming new talent"
This 24-month mentorship will allow the 3 rising stars to have access to the insights and guidance from the following:
Broadcasting "All-Stars"
Chris Jordan
Chris Jordan is an experienced media practitioner. Spending 20 years in the media industry, he has worked for commercial hit radio station 947, produced for international entertainment conglomerate Ryan Seacrest, presented on Harlem, New York's SARFM, and managed at retail station Yebo Radio, and managed the conception of South African LGBTQ+ Online station GaySARadio. He also runs his own media training company, Chris Jordan Media, which has serviced stations like SMU FM, Alex FM, Lesotho's MXXL FM, MCRS FM, and Pheli FM. Training aspiring media professionals for the past 10 years at Boston Media House, Chris also published his academic textbook "A Word on Radio " and audiobook "Radio 1 on 1: 25 of the Most Asked Questions in Radio Broadcasting. For more information, visit www.chrisjordanmedia.net.
Chris has also been an entertainment journalist/presenter on eTV's Morning Live for 4 years.
Chris also moonlight's in the Corporate Training arena. Having a BSc in Computer Science and BComm (Hons) in Informatics, he has diversified training experience from ICT skills to being a Google accredited specialist in G-Suite, Google Cloud Platform, and in Applied Digital Platform Skills, to high end and SETA Accreditation training in Project Management, Corporate Communication, and Leadership skills.
Facebook : @Chris Christou Jordan
Twitter: @chrisj_papag
Instagram: @Chrisjordanmedia
---
Catherine Grenfell
Catherine joined 5FM as a producer in 2001 following several years in the live arena (she studied lighting, sound and stage management). She has worked with Mark Gillman, DJ Fresh and Warrick Stock (the Shady Lurker) as a producer on their shows as well as doingTraffic. She also had her own Live show on 5FM, with a live band and live studio audience.
In 2016, Catherine decided to leave 5FM and start a new adventure, freelancing as a radio and field producer and social media content director. Catherine was also involved as the Program Manager and Presenter on a new internet radio station called The Eye. Catherine was also a lecturer at Boston Media House for 5 years, where she taught Radio Theory. Teaching has become a huge passion in Catherine's life and it is very important that she shares her knowledge and helps pave the way for new talent. Catherine started as Head Producer at Audio Militia in 2018 (An all-encompassing Music Agency) and has found her happy place with this amazing team.
Over the years, Catherine has had an extensive interviewing track record (from Piet Botha to Zachie Achmad, Kwesta, AKA, Charlize Theron, Pieter Dirk Uys, Pink, Arctic Monkeys, Violent Femmes, 3 Doors Down, Groove Armada, Staind, Metallica, Korn, Muse, Chris Cornell, Kaiser Chiefs, 30 seconds To Mars, Good Charlotte, and many more).
Her love of great music, both South African and international, has given her the opportunity to travel to different music festivals around South Africa and the World. Catherine has extended her love of music to DJ'ing and plays a wide variety of genres from Rock, Deep House, Electro House, Pop, Kwaito and Amapiano. Catherine has MC'd many festivals and corporate events, including SAMA's, Oppikoppi, Mieliepop. Rocking The Daisies, Synergy, Lush Festival as well as School graduations and the IAB 2018 Digital Summit.
Catherine has been a judge for The South African Music Awards for the past 8 years. Alongside her music, Catherine's adventurous spirit has seen her undertake many escapades, all in the name of great radio. This adventurous rock chick has bungee jumped off the world's highest bungee bridge, shark-cage dived, abseiled and driven in an off road rally car.
On a more serious note, Catherine's charity involvement is something she feels as passionate about as the music. As a mother, she's no stranger to the challenges facing contemporary society and she has been involved in many charity initiatives. She climbed to the top of Kilimanjaro for a charity organization called The Lonely Road Foundation.
She has ridden the Cape Argus Pick 'n Pay Cycle Challenge twice, the first time for a close friend (Natalie's Circle Of Love) and in 2013 for The Pink Drive. She has also swum the Midmar Mile 2013 with her son for The Pink Drive. She has a lot more charity work coming up for this year and hopes to change and influence people for the greater good.
Catherine is also an Ambassador for The Children's Radio Foundation and WWF SASSI. Catherine has also recently become involved in Operation Smile, which is an organization she holds very dear to her heart and wants to use her platform to make a difference in people's lives.
Facebook: https://www.facebook.com/cathgrenfell
Twitter: https://twitter.com/CathGrenfell
Instagram: https://instagram.com/cathgrenfell
---
Vusi Alphaa
Born Vusimuzi Shaun Mapeta in Venda, Limpopo Province. Vusi Alphaa is a South African Radio personality; Hip-Hop artist who is currently with Capricorn FM: Limpopo's Hottest frequency hosting The Saturday breakfast 6-10am; The Morning Grind mon-fri 3-6am. Vusi Is also the new host of the Newly formed Limpopo TV community channel; he hosts a music show: Amplified summer nights on Friday nights at 10pm.
Vusi is also the founder of the independent record label Dope Drip Record; he is a Boston Media House alumni, with a diploma in media practices majoring in Radio.
Vusi started his radio career in 2017 at New Vision Radio: where he hosted numerous radio shows, later joining 1912 online radio in the same year. He then joined a community radio station Vhembe FM in Thohoyandou in 2018 before venturing into commercial radio. Besides being on radio Vusi is a music performer; he has released singles such as #Chakalaka which is a hip-hop song that went Viral; trended number 1 on Twitter, also being covered by News24 as they wrote an article about 5 Positive things that the video.
Twitter: @vusialphaa
Instagram: @vusialphaa
Apple Music: https://music.apple.com/us/album/tshigombela-feat-haandi-yellow/1548848610?uo=4&app=apple+music
---
Michelle Ayden
Michelle Ayden is 1.55m of Cool!
Born in 1979, she is of new age vintage.
She graduated BA Drama Hons Cum Laude from the University of Pretoria in 2003, so she is smart as well as talented! She has done a plethora of coursework to keep up to date with international trends in the industry.
She's done work for Coca cola, Telenet, 7delaan , JoziH and Kyknet as an actress . In 2007 she was cast as the controversial Maggie Rossouw on the popular MNET soap Egoli. She also got an awesome opportunity to be part of District 9. That locally shot international film was produced by Peter Jackson. Nominated a for Best Picture at The Academy Awards 2010!
She's done many voiceovers, recorded a children's series onto an audio disc, and deejayed as a presenter on TUKSFM alongside big names like Chris Jordan and Anele back in the day.
On stage, she has done Shakespeare, Chekov, Strindberg, Pinter, Miller, Simon, Beckett, and more.
She has starred in SABC 3 Sketch comedy series, SKETCH YOU LATER, 3 seasons of Thandeka's Diary, Ayeye and other great shows over a two-decade career.
She has appeared as a guest on many talk shows on television and radio.
She now focuses more on coaching talent and her absolute passion is sharing knowledge and skills.
Instagram: @mishmerizer
FB Page: @missayden
---
Kenzy Mohapi
Kenzy Mohapi is a vibrant & talented media professional and entrepreneur who has had a successful 14 year long career.
She is a multiple award-winning public speaker, award-winning Liberty Radio Awards radio presenter, talented MC and creative media entrepreneur, and was also included in Mail & Guardian's prestigious Top 200 list 2019.
Kenzy is the owner of Content Creation company, ROAR – Republic Of African Rockstars. An MC for different kinds of events over the years from corporate events to facilitating workshops. MC for Shoprite Christmas conference, Old Mutual business invitationals, IMC 2010 World Cup gala, Sunday Times GenNext 2019 moderator and the SAB Entrepreneur Awards to name a few. EXPERIENCED MASTER OF CEREMONIES Corporate events, activations, facilitator, winner of the Liberty Radio Awards winning radio host, 'Best Commercial Radio Weekend Show' 2019.
The Liberty Radio Awards 'Bright Star' award 2017.
Kenzy has had a successful radio career behind the mic since the age of 18, having worked at TuksFM, OFM, CapricornFM, and is currently playing her trade at JacarandaFM.
Kenzy has also curated the music programming for three commercial radio stations. Kenzy is currently a radio host and music compiler at JacarandaFM
Instagram: @kenzymohapi
Twitter: @kenzymohapi
Rising Stars
Zinhle Geluk
Zinhle is from Gauteng Joburg. She was born on 5 January 1998. She went to Alberton Primary school, where her love for speaking and the arts was born. She participated in the school's eisteddford every year. At church she would participate in doing readings and act in plays such as Passion of Christ and casual event plays. In high school she joined public speaking tackling various topics.
She is currently completing her Bachelor of Social Science in Politics and Economics at UCT. When she began her university journey she began MCing at various res events. In 2019 she joined the UCT radio where she received training guarded by the excellent station manager Natilie.
She began doing graveyard shifts shows, later that year moved to prime time talk such as being co-host at Talk @12 and Music brunch show. She also joined the content production where she produced for various other shows. Zinhle also has a bug for writing in 2019 she joined varsity news and wrote thought provoking and informative opinion and feature articles, especially during the 2020 lockdown.
She also has a love for leadership 2019 she was the only independent candidate who gained the most votes for the UCT SRC, having had prior experience with student leadership where her fellow colleagues describe her as an exceptional force who puts her all in what she does.
She is friendly, funny, direct and a humble human-being with a love for people. She is also hard-working, ambitious with the drive to thrive.
Her dream is to be an internationally acclaimed broadcaster, media personality and businesswoman and lead through mentoring others and who knows maybe running a station one-day.
Theri Morulane
Lovely model & radio personality with an enthusiasm to give listeners an entertaining experience. With over two years experience in radio, my skill-set includes vibrant voice acting, content creation, announcing programme line ups & presenting music. Beyond my passionate persona is my great ability to make use of media and audio mixing consoles. Not only am I swift in learning to operate media mixing technology but I creatively produce on Adobe audio systems & Logic ProX music editing software.
Besides being behind the cameras and the creativity of the mic, is my intellect. I'm a 2x degree holder in psychology plus anthropology & also diligently pursuing my interest in business & financial markets in my role as a top Relationship Associate at an award-winning Forex broker. Last but definitely not least. Campaigning for women empowerment and actively giving back to my community continues to be my greatest priority!
Instagram: woke_queen
Facebook: Ithereng Morulane
Mamokete Sehoole

Mamokete has been in the corporate governance sector for over a decade. She studied a short course in radio presenting with Boston Media House. She was a producer for Doughboy Productions. She has spent two years volunteering in Ghana at Sweet Melodies FM as a media officer and voice-over artist. She is a poet and an actress. She has acted in a number of theatre productions. She is also an entrepreneur.
Instagram: mamokete_sehoole
Facebook: Mamokete Sehoole
---
Rising-Stars Workshops
So we are off to a great start. All the rising stars have met with their mentors and explored the growth of social media strategies, branding, copywriting, voice over exercises and brainstorming podcast series'.
In my sessions, we focused specifically on social media strategies, brand identity, and podcast conceptualization – and I want to share some general tips with you on these particular areas.
The "Face" of Your Business
For all intents and purposes, your brand's logo is the "face" of your business. But that face should do more than just look cool or interesting — a logo's contribution to brand identity is associative, too. It tells the public that [this image] means [the name of your company].
Credibility and Trust
Having a brand identity doesn't just make your product more memorable; it makes your brand more authoritative in the marketplace. A brand that establishes a face, and maintains that face consistently over time, develops credibility among its competitors and trust among its customers.
Advertising Impressions
A brand identity is a template for everything you would include on an advertisement for your business — whether that ad is in print, online, or a preroll commercial on YouTube. A brand with a face and industry credibility is well prepared to promote itself and make impressions on potential buyers.
Your Company's Mission
When you create an identity for your brand, you're giving it something to stand for. That, in turn, gives your company a purpose. We all know companies have mission statements, right? Well, you can't have one without first giving your brand an identity.
Generating New Customers and Delighting Existing Ones
A brand identity — one with a face, trust, and a mission — attracts people who agree with what your brand has to offer. But once these people become customers, that same brand identity gives them a sense of belonging. A good product generates customers, but a good brand generates advocates.
If you want your business to become a well-known and beloved brand name, it's going to take some work. The following steps will help you build a brand identity. They are simple steps; implementing them, however, is another story.
Research your audience, value proposition, and competition.
Design the logo and a template for it.
Integrate language you can use to connect, advertise, and embody on social media.
Know what to avoid.
Monitor your brand to maintain its brand identity.
Social Media Strategy
The easiest "Cheat Sheet" for developing a social media strategy is to literally go on Pinterest and search for template calendars for each medium. They look like this.
These "high traffic" guides will be helpful in when to schedule posts across your platforms
Some beginners tips:
If you are able (financially) – invest in a landing page, like this very one here. Social media will provide daily dynamic content, while you have a clean, professional reflection of your brand, and your work.
Devote your time posting with purpose, and regularly. You are creating a habitual nature for potential followers. So if you dedicate to one well-produced, slick YouTube video a month (and that's what you can manage) – commit, and do it.
Drop hashtags on Facebook. In fact, only focus on heavy rich content that you can share with your followers.
A maximum of 4 hashtags works on Twitter and Instagram. 2 that are trending and 2 that are your own.
Focus on ONLY image rich or IG TV content like teasers to an interview, or a short inspirational connection with your audience. Make it entertaining to watch or again, with pictures, snap with integrity, and purpose to a story worth a thousand words.
Polls work nicely on Twitter as pre-production for heavy content that might on a landing page. You can test where your followers are in an opinion or mindset. If you're going to retweet – make sure to add your two cents in, and give again, purpose to the post.
And lastly, RESPOND to post comments, especially if you asked for an audience engagement. One, it's professional. Two, it's common courtesy to receive, then give. And thirdly, it acknowledges each follower as human being, and will have them coming back for more.
---
How To Start A Podcast: A Complete Step-By-Step Tutorial
By Ross Winn
Disclosure: Links to other sites may be affiliate links that generate us a small commission at no extra cost to you.
If you're looking for a guide that walks you through how to start a podcast, you're absolutely in the right place…
Starting a podcast isn't difficult, but there are a number of steps you'll need to go through in order to get it launched.
In this podcasting tutorial, we'll walk you through every step of the process:
Choosing a topic & name
Show and episode format
Cover art creation
Intro & outro music
Equipment selection
Audio recording & editing
Submission to Apple Podcasts (iTunes)
Promotion tips
And much more…
Planning
This is the initial (often overlooked) stage to make a podcast. You'll want to spend a good amount of time here before you move on.
Feel free to get out a notebook or a whiteboard so you can start planning your podcast like a pro.
Choose A Topic
You want your podcast to be focused on a particular topic or niche.
Try to narrow it down to something you can speak about for many episodes (100+) but that isn't so broad that you won't appeal to your potential audience.
For example, instead of having an "outdoor" podcast, talk about hiking – or even more specific, like hiking 14ers.
You can always expand your topic later as you get more popular.
Important: see the section about choosing a name to make sure you don't limit yourself.
Pick A Co-host (optional)
Do you have a friend, business partner, or coworker that you want to co-host with?
It can be much easier to start podcasting if you have a co-host.
You will naturally have a more engaging conversation if you both share your points of view on a topic. It can also be helpful to have someone to keep things on track.
Plus, you can split additional tasks of editing, promoting, and more.
There can be downsides though.
You'll want to make sure both of you are committed to it for the long term. And it helps to set a schedule from the beginning so you know when you will be recording every week.
There aren't rules here though. If your co-host drops off, you could still continue the podcast without them. Or you could start solo and add a co-host later.
The important thing is to just get started.. so let's choose a name:
Choose A Name
If you look at the top Apple Podcasts charts, you'll see a variety of different names.
Some are descriptive of what the show is about, while others don't mean much.
I'm actually going to seemingly contradict what I said earlier: You want to choose a name that is broader than your topic.
Using the hiking example earlier, if we choose "The 14er Cast" as our name, what happens when we want to talk about backpacking & ultralight camping too?
Instead, choose a name that will let you expand if you decide to later. Maybe "Mountain Adventures (Above & Below 14K ft)" would work as it gives a hint to hiking 14ers but gives you the option to talk about all kinds of stuff if you want.
I just came up with that as I was writing this, I'm sure you could do better!
Action Step: Purchase a domain name (opens in a new tab) for your podcast.
Another option is to get a free domain name with a Bluehost web hosting plan. You can search right here on this page – try it out!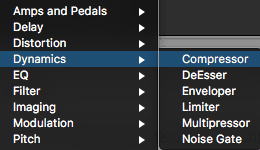 Show Format
Length
You'll find a number of "experts" claim that certain lengths are perfect for podcasts. The problem is that's just BS.
You don't need a 28-minute podcast because that's the average driving time. Or under an hour because people can't pay attention longer than that.
There are 5 minutes podcasts and there are 6-hour podcasts. Find whatever works for you and run with it!
What I would try to avoid is making it longer than it needs to be because you went off-topic for 15 minutes.
Here's a great image from Pop Up Podcasting that shows "easy, good, or long – pick two":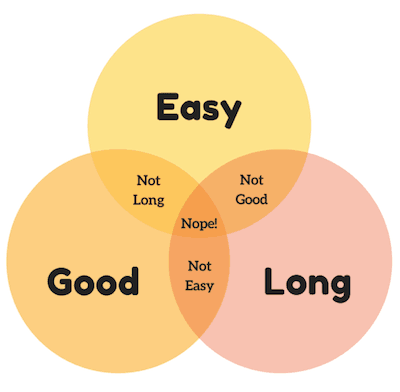 Style
Interview shows are popular, but that doesn't mean you have to do one.
You can do solo (or co-hosted) shows half the time and interview shows the other half.
One big benefit of doing interviews is that they help a ton with getting new listeners – especially if you make it easy for your guest to share with pre-written templates and graphics.
Episode Format
So what does a specific episode sound like? I wrote this post about podcast intros, but it has a bunch of examples of different episode formats for popular podcasts.
Here's one example:
Teaser
Intro Music
Welcome
Ad Spot
Interview
Call To Action ("Review us on iTunes!")
Outro Music
Get creative with this part.
Different segments make it easier to share small clips on social media too.
But remember that for every episode you put out, you will have both repeat listeners and new listeners so you should try to speak to both of them.
Preparation
Now that you've written down your topic, format(s), and secured a domain name, we'll need to get a few things prepared ahead of launch…
Create Cover Art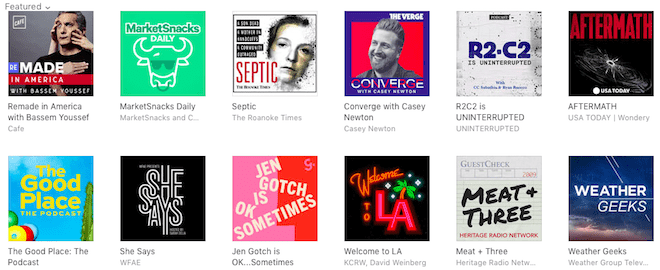 Your cover art is the first impression most people will see as they browse through Apple Podcasts or their favorite podcast app.
It's might also be the image someone sees when you share your show on social media.
Buzzsprout has written an excellent article about designing cover art, so I would definitely start there.
If you have a little bit of a budget, I highly recommend 99 Designs to get yours created.
You'll get hundreds of different designers to produce a draft – then you can choose the ones you like to have them further refined.
Get A Professional Intro (Optional)
Music Radio Creative is the best place to get professional-quality voiceovers and intros.

Having a third-party introduce you just takes your perceived value up a notch, which is a great way to stand out when first starting a podcast.
Choose Intro Music
I'm a big fan of PremiumBeat for podcast music.
It's easy to search, you get a full license, and they have a bunch of different styles.
Take a look at this post on royalty-free music for more options.
Most people don't need an unlimited subscription-style music service – just a song or two.
Get A Microphone
Audio quality is important but it doesn't have to cost a ton to get a good quality microphone for podcasting. One of the most popular podcasting microphones is the Audio-Technica ATR2100x-USB (brand new version for 2020).
It's both a USB microphone and has an XLR connection which lets you upgrade your recording equipment without needing a new mic.
I recommend taking a look at our podcast starter kit post for more options here, especially if you plan on having a co-host or two.
Podcast Guests
If you are doing an interview show, now is the time to get a list together of who you want on your podcast.
Then start reaching out to them.
It can help to use a service like Acuity Scheduling so people can book right on your calendar when it's convenient for you.
This saves the headache of going back and forth working out a meeting time – and means you can focus on getting more guests!
Plus you can ask them for certain info like their Skype username or an intro you can read when they schedule with you.
To record your interviews when you're not in-person (or if your co-host doesn't record in the same room with you) I use and recommend Iris.
Recording & Editing
Alitu (The Easy Way)
If you haven't used editing software before, even simple actions in GarageBand or Audacity can be quite intimidating.
It's understandable: audio production is completely full of jargon!
If that's the case, then Alitu might be the way to go.
It's a 'podcast making' tool that automates a lot of the confusing technical parts, and practically builds your episode for you. It's all based right inside your browser, so no software to download, and it works on any computer connected to the internet.
It is built to be super simple to use and does pretty much everything:
Takes care of audio cleanup
Lets you add music
Helps you piece together your audio segments
Has direct publishing of your episodes.
All you need to do is upload your recordings, and use the fool-proof podcast-specific editor to take out any big mistakes. Alitu does the rest!
Even better, Alitu includes a library of music and jingles which you can use as your theme tune, or as transitions between segments.
Whether you're a complete beginner, or an experienced podcaster looking to drastically cut down on your production time, you should definitely give Alitu a try. It comes with a 7-day free trial, so sign up here and try it out!
GarageBand (Free Option)
I'm going to show you how to use GarageBand for recording and editing.
Other audio editing software is similar but most have more advanced features that you don't need when getting started. Popular options are Adobe Audition & Audacity (both work with Mac & PC).
You can also check out our full post on podcast editing software.
Create A Template
Before you get started, it will be much easier if you create a template that you can reuse every time you record a podcast episode.
What this means is that you will have your intro & outro music already placed, space for ad spots, as well as your tracks for your voice or an interviewee.
Keep in mind this will look different depending on your episode format – create a podcast template that works for you. Here's one I use: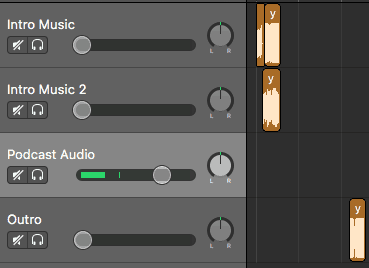 I'll just open the template up, click File -> Save As, and save the file as my episode name (i.e. 008-episode-8-title).
This will also keep any effects you have applied to the tracks, including compression, EQ, or anything else. I'll show you the settings I use in the editing section below.
Record Your First Episode (Or 3)
Solo
If you're just recording a solo episode or want to record an intro to an interview you did, simply select the track you want to record to (see the light gray Podcast Audio track selected above) and click the red Record button up top:

Multiple Hosts
If you have multiple hosts, you'll need to click Track -> Configure Track Header and check Record Enable.
This will give you the option to enable multiple tracks to record at once and you'll see the Record Enable button on each track: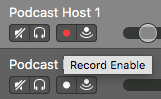 You'll click that button on each track you want to record, then click the big record button up top. Easy enough!
Remote Interview
Many people use Skype for recording remote interviews and the easiest way to actually record the audio (or video) is with Ecamm Call Recorder For Skype (Mac only) or Pamela (for Windows).
If you want better audio quality than Skype or Zoom allow, or a way to have individual audio files for more than 2 people, services like Iris are excellent. They are designed for remote recording and podcast interviews.
When you are done recording, you'll have two separate tracks that you will place on top of each other like this: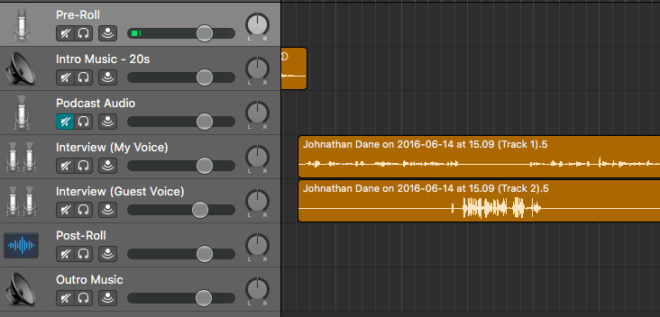 This also shows another template that you may want to use. The Podcast Audio track is only used for solo shows, and the Interview tracks are only used for interview shows.
Edit Your Episode
There are a couple of things you can easily set up once (and save in your template) that will make your podcast (and your voice) sound much better.
Keep in mind that everyone's voice is different so there aren't perfectly universal settings, but these may give you a good starting point:
Select the track you want to work with (start with your voice)
Click an empty space in the Plug-ins box
Add compression by going to Dynamics -> Compressor:
I use these settings (sometimes I'll add more gain):Play around with them and just click the power button next to the compressor plugin to easily compare.
Next we're going to add EQ (under EQ -> Channel EQ).
Here are my settings:
100 Hz: 24dB/Oct roll off, Q: 0.79
160 Hz: -2.5dB, Q: 2.20
500 Hz: -1.0dB, Q: 0.71
930 Hz: -0.5dB, Q: 3.20
3400 Hz: +0.5dB, Q: 0.71
5400 Hz: +2.5dB, Q: 0.71
I'm not going to get into what all that means, but if you just do one, the low-end roll-off (on the left) will be a good start.
Or you can just download my Podcast Vocal EQ settings here (.pst file on Dropbox).
The last step I'd recommend is going to Auphonic to apply some normalization for loudness (LUFS), leveling, and filtering. It will also automatically add ID3 tags should you need them.
Launch!
Get A Podcast Host
I use and highly recommend Buzzsprout podcast hosting after trying many different companies over the years.
Plus you'll get a free $20 Amazon gift card after you sign up for a paid plan!
Feel free to check out our complete podcast hosting guide if you want to see other options, but another great choice for larger brands is Transistor.
You can also look at this list of the best podcast platforms.
Once you've signed up, you'll need to fill out some required information about your podcast (name, description, categories, etc.).
Upload Your First Episode
If you use Buzzsprout, this process is super simple.
If not, it's possible you need to mess with things like embedding ID3 tags into your MP3. Sounds confusing and unnecessary – let's not do that.
You'll just need to click the "Upload" button:

and they'll apply some magic processing to your mp3 file.
Then you'll need to fill out the episode title, description, summary, publish date, and episode #.
If you want to use Seasons, put a "1" there, otherwise leave it blank. If you use a lot of bad words, click the explicit checkbox.
It can be helpful to create a template for your episode description (in a separate text document) to reuse for every episode – I use something like this:

Click save and repeat this step for your initial release of episodes.
It's recommended to launch a podcast with more than 1 episode so that people don't have to wait to hear more.
3 to 5 episodes is a good number to start with.
Submit To Apple Podcasts (iTunes)
I have a separate guide on how to submit your podcast to iTunes but within Buzzsprout just click Apple Podcasts under the Directories tab and follow the steps they've put together.
After that, grab your podcast RSS feed and submit it to other podcast directories too.
As you upload new episodes, your host will automatically update your RSS feed and any podcast directory you're listed on will also update with your new episode.
Spread The Word
Use Buzzsprout's social sharing feature to generate teaser videos and start sharing!

There are other companies that will help you generate different styles of audiograms, but having it built into your host makes it really easy to create (and it won't cost you extra).
Wavve and Headliner are two excellent choices if you want to create more custom podcast videos to share.
Check out this article on podcast promotion to for a bunch of other marketing tactics. One of the most impactful ones is building your own website (see next step below).
Recommended Steps (After Starting A Podcast)
Your job isn't done once you start a podcast. Here are my recommendations to help make your show more appealing and easier to grow:
Create A Website
WordPress (Easy To Medium Difficulty)
Podcast hosting companies usually give you a website, but if you want to be taken seriously get yourself a separate WordPress host.
For beginners, Bluehost is easily the best option (plus you'll get a free domain name for the first year).
If you need a bit more guidance, start with this how to start a WordPress blog post for the initial steps.
I have a list of excellent WordPress plugins that a podcaster would need too.
And if you need more help, I have a course called Podcast Website LaunchPad that walks you through everything.
Podcastpage (Easiest Method)
Podcastpage is a website builder and hosting all-in-one made specifically for podcasts. Kind of like Wix but designed for the needs podcasters.
No coding is necessary. You just choose one of their themes, customize to your liking, and optionally integrate email marketing or Google Analytics.
You can add pages or blog posts, customize your audio player, and make it easy for your visitors to subscribe!
It works with any podcast hosting provider and pricing is fair, starting at $80/year or $8/month.
Check it out and sign up for a free trial here.
Get Transcriptions
Transcriptions are an excellent way for search engines (like Google) to "read" your podcast episodes. They also give your audience another way to look something up quickly.
You don't have to start out with them, but it's another one of those things that will set you apart.
Buzzsprout has a built-in transcription service (on paid plans) that costs $.10/minute, but my favorite transcription service is Scribie. Give them a try.
Create Show Notes
Show notes can be transcriptions like above, a simple summary of what you talked about, or a full blog post tailored more toward reading than listening.
Some people do a combination.
On this site, we start with written content first and then create podcast episodes after.
Embed Your Episode
Grab your episode embed code and place it on your show notes page so people can listen from your website.
---
Article By Ross Winn
Ross Winn is the founder of Podcast Insights, the industry-leading podcast education site. He has helped thousands of people start and grow a podcast and loves to test out new gear and software.
How to Start a Podcast for Fun and Profit
Steps to Creating and Profiting From a Podcast
BY LESLIE TRUEX Updated January 08, 2020
Podcasting is a fun and affordable way to promote your business, connect with influencers, and tout your expertise. Or you can start a podcast as a home business.
The challenge for many who are interested in starting a profitable podcast is that technical know-how and logistics can seem overwhelming. While there is a lot to plan and do to start a podcast, it's not difficult if you take it step-by-step.
What is the Goal for Your Podcast?
Some home business owners podcast to complement their existing business. For others, the podcast is their home business. Or maybe your goal is simply to have an online radio show as a hobby business. All are acceptable, but your end game goal will dictate some of the decisions you make along the way.
What Topic Will You Cover?
Like most other business ideas, narrowing your niche enough to be unique without making it too limited to support a long-term show, is the best way to pick your topic. For example, if you want to start a health and wellness podcast, pick a sub-topic or a specific market, such as clean eating or diets for middle age moms.
Who are You Podcasting For?
This is where the target market comes in. Like any other home business or marketing strategy, you'll save yourself a lot of time and money if you hone in on a market that wants what you're offering.
Name Your Podcast
Coming up with a show name is one of the most important tasks, so take time to do it right. In many ways, it's similar to naming your business, in that you want a memorable name that describes the nature of the show. If you're podcasting along with your current home business, you'll want to maintain your brand, so you'll want to include your business name in the show.
Decide Your Show Length, Frequency, and Format
Most podcast experts agree that 20-45 minutes is an ideal show length. Some podcasters post daily, while most posts weekly. However, you can post monthly if that's what it takes to produce a solid show full of value for your audience. Finally, how will the show be organized? Are you the only person speaking or will you have a co-host or a guest interview? Will you have different segments to your show, such as a Q&A or tip of the week?
Create Graphics and a Website for Your Podcast
The graphic will be used on podcast directories, as well as show up on your listeners' devices. You also need a hub from which to share and promote your show. Many podcasters use WordPress to create their website because there are some great podcast-related plugins, but you can use any option that gives you a professional web presence.
Make the Commitment to Your Show
Once you start and have an audience, you'll be expected to produce shows. This can't be a haphazard thing or something you do only when you feel like it. It can help to plan 10 or more shows in advance and take time each week to plot out future show ideas to ensure you always have something to record for your show.
Gather Your Tools and Equipment
The good news is that technology is more affordable than ever. Even so, you want quality equipment to ensure good sound and editing. Here are the items you need to record your podcast.
Microphone
This is one thing you don't want to skimp on. You can get an affordable USB microphone that can record directly into your editing software for around $50. Most podcasters have desktop microphones, but there are some quality headset ones as well.
Skype for Interviews
If you plan to interview guests, Skype is a fantastic, affordable option, especially if your guests live in a different country. You can do plain audio calls or video calls if you'd like to do a videocast. You can call Skype-to-Skype for free. Skype-to-phone has fees, but it's very affordable.
Software to Record Interviews
If you're doing a solo show, there is no need for this, but if you want to record Skype calls, you'll need a third-party software that will record the call. Some options include Pamela for Skype (Windows), ECamm (Mac/iOS), and MP3 Skype Recorder (free).
Audio-editing Software
A long time, affordable (as in free) option for podcast editing has been Audacity. Mac users have Garageband standards on their machines. There are other audio editing options as well, but you'll want to find one that allows you to fix sound issues, cut segments, and add elements (i.e. your intro and outro). Another option is to outsource audio editing. If you're doing a videocast, you'll want the same elements except it should edit video.
Find a Hosting Service
Audio files are large, so you need a place where you can store it, and also, get playback options you can embed onto your website. Libsyn and SoundCloud are two of the most popular options. Podcastwebsites.com offers a single place for everything (website and podcast) if you like simplicity. It's pricey for the beginner, but there are no limits on storage or bandwidth, which can jack up the price of podcasting with some other options. When choosing a service, consider whether or not they can distribute your show to iTunes and other popular podcast sources. You can do this yourself, but it's a nice feature if the host can do it for you.
Test Everything
Before you record your first real show, have a test run to learn how to use your equipment and software, and fix your glitches. For example, make sure your recorder is actually recording your Skype call. You don't want to interview someone only to discover the call wasn't recorded.
Produce Your Podcast
You've got everything in place, now it's time to put your show together. Here are the steps.
Create your intro and outro
These are the music and spoken segments that will appear on every show. You can do these yourself or hire a voice-over specialist. Make sure any music you use is royalty-free and you have permission. Don't make them too long. People are eager to hear the meat of your show, so don't make them wait too long.
Outline or Script Your Show
The most interesting podcasts are conversational in nature. So while you may want a script to stay focused and avoid rambling, you don't want to read your show. If you'll be interviewing a guest, get or share questions in advance so you both know what's going to be covered.
Record all the Segments of Your Show
Many shows are divided into different segments. For example, the intro, brief welcome by the host sharing about that week's show, an interview, a tip, and the outro. This is just an example. Perhaps you're doing a quick and dirty 5-minute show in which you only have an intro, your show, and the outro.
Edit Your Show
Colin Gray has several YouTube videos on using Audacity to edit podcast audio. If you're using different software, follow the instructions for editing. Your goal is to level out the sound, improve sound quality, reduce static and other sound issues, and slice together with your show segments.
Tag the Audio (MP3) of Your Show
It's not enough to name the file with your show and episode name. You want to tag it so that those names also show up on people's podcast listening devices. This is where you add your podcast graphic as well.
Upload Your Podcast to Your Host
Use your host's instructions for uploading your show.
Share Your Show
Once your show is up, it's time to let listeners know about it.
Embed the Show on Your Website
Most hosts will give you a code that allows people to hit play and listen to the show right from your site, or to download if they'd like to listen to that way. The best way to do this is to have a blog post about your show, add the code, show notes, and any other information that goes along with the show. For example, if you interviewed an author, you can add an Amazon affiliate link to his book. Or if you mentioned resources on the show, you can include links to them.
Add Your Show to Podcast Directories
The most popular are iTunes, Stitcher, and SoundCloud. You'll need to apply and be approved before your show will be available.
Share your show on social media and include information about your show in your email newsletter. Lastly, add slides or graphics and turn your audio into a video to share on YouTube. Or consider doing a videocast from the outset.
Make Money From Your Podcast
It can take time to make money from a podcast, but if you produce a quality (in content and sound) show geared toward a target market, you can make money. Here are a few ways podcasters make money from their shows:
Affiliate Marketing
Just like you can use affiliate marketing to make money from a blog, so too can you from a podcast. The trick to affiliate marketing on a podcast is delivering your unique affiliate URL. If you use WordPress, you can use the Pretty Link plugin to create easily spoken URLs with your domain name that will direct listeners to your affiliate product. For example, if you want to promote the book "Amazing Acme Tips," you can get the affiliate link from Amazon, and then create a redirect from your website to the book. That way you can tell readers, "To pick up your copy of Amazing Acme Tips, visit mydomain.com/amazingacmetips," and your redirect link would then take the listener to the book on Amazon.
Sell Your Own Product or Service
Podcasting is an excellent option if you create a product or service targeted to your podcast listeners. For example, if you have a bookkeeping service, you can have a podcast on bookkeeping secrets for small business owners. You can use the show to share tips, but also, share your expertise and services. Podcasting works well for generating clients for coaches and consultants, as well.
Sell Ads
You'll need to have developed a show with a good number of listeners before you can offer to advertise, but once you do, you can sell 20 to 30 seconds of time for other offers. You can also have these ads on your website with the episode of the show.
Get Sponsors
Similar to ads, you can get show sponsors. You'll need a sizable audience to get a business brand to regularly send money to sponsor your show. It will be important for you to gather stats on the number of listeners and downloads to appeal to a sponsor. Not only would your sponsor be mentioned on the show, but also, you should have information about it on your website.
Premium Content
Similar to the freebie offer as a way to entice people to join your list, you can use the podcast as a mechanism to entice people to pay for more detailed content. This can be access to more in-depth interviews or interviews that weren't aired on the podcast. Or it can include joining a membership or community site. In order for this to work, your podcast needs to do a great job enticing people to want more than the podcast offers. Further, the premium content needs to be of good quality and value.
Donations
There's no harm in asking for donations to help support the show. While most people like free, there are those out there who will donate if they feel they're getting great value from the show.
10 Business Podcasting Ideas
A podcast is like an audio blog—a short burst of content that allows you to deliver an interesting, informative message. Whether you're blogging or podcasting, thinking of new content can be difficult. Still, creating a podcast provides your business with an increased opportunity to build a following and reach your clients and prospects. When you're thinking of ideas for a podcast, start with what you already know:
Create an episode of your podcast as a follow up to one of your most popular blogs. Blog articles that are frequently read, commented on, and shared through social media have the kinds of content that your audience is interested in. Maybe the topic is controversial or perhaps you've described a complex, technical issue—either way, take this popular topic a step further by podcasting about it. Once you've recorded the podcast, link to it on the original blog post. Capitalizing on popular blog posts also allows you to grow your podcast's following.
Answer frequently asked questions. When you use your website to answer FAQs, you use words to be concise while remaining informative. If you have frequently asked questions that can be answered more specifically, use a podcast to give the in depth answer.
Give listeners a set of tips about one particular topic. Think about "How to" or "Dos and Don'ts" segments that address the needs of your customers.
Discuss the "hot topics" at your office. Keep it professional, though. For example, we asked around the office to see if people used one space or two at the end of a sentence, and found that people have very strong, specific feelings about each.
Have a conversation with someone from your company. By bringing in another voice, any content becomes more engaging and dynamic.
Deliver news about your company. You can introduce new staff members, highlight new services, or announce newly opened locations.
Interview a client or industry expert. If you choose to interview a client, you can feature them as "Client of the Month," highlighting them and discussing why they use your business. When interviewing an expert, make sure they are delivering content that your listeners want to hear. You can poll your subscribers and ask them what topics they want to learn more about, and deliver the podcast accordingly.
Talk about your case studies. If you've done something noteworthy for a client, like solved a particularly difficult problem, use one of your podcasts to discuss it. The key here is not to try to sell to listeners, rather to show them that problems can be solved creatively.
Turn your newsletter into a podcast. It's okay to have a written article and an audio file. Use the writing as a transcript and embed the files into your website. You can also deliver them on their own, for people on the go who would rather listen than read.
Talk about yourself. Personality is what really makes podcasts successful. If you interject personal anecdotes and make yourself more relatable, you give your company a human face.
As you record your podcasts, be sure you are delivering useful content with a clear, professional voice. If you want to create a podcast but have a heavy accent or don't have the time to rehearse and record, consider having the audio professionally produced. You can find a voice that matches your brand and still conveys a human touch. Content is king, but only if it is delivered well.
Go see http://soundcommunication.holdcom.com/bid/70025/10-business-podcasting-ideas
---
---
Facebook Live Session with Catherine Grenfell and Michelle Ayden
Some talk topics (disclaimer: Apologies for the slight cut in sound FB live was severely under processing pressure that day)
Examples of varied VO applications and what the differences are
the current 2021 radio landscape – What stands out against what doesn't in droves
Management = win/lose?
2022 expected standards- the reality of careers in radio/tv/theater etc
why anyone can start a podcast, but why a lot should not
longevity through weekly episodes or series?- why does everyone need voice coaching
---
Rising Star Zinhle Geluk breaks the doors down into Primedia Broadcasting
We are so happy to release the news that Radio Mentorship mentee Zinhle Geluk has hit one massive milestone in her road to greatness.
Just a quick catch up.
Over the past couple of months, Zinhle has been hard at work completing her Degree in Politics at the University of Cape Town – done.
She was one of the top 5 finalists in the Good Hope Talent Search who went to air and competed in front of a live audience proving she can stand out. Done.
She has also been proactive in a ton of MC gigs on and around campus and was also involved in DJ Zinhle's talk to rising female journalists at UCT. Done.
And now she has been accepted as the programmes managers intern at Cape Talk 567 for a 1-year programme that starts on the 1st of September 2022.
We could not be happier for Zinhle as she outshone the competition and has taken her first step into the rest of her commercial broadcasting career.
The Chris Jordan Media Radio Mentorship is devoted to seeing young talented broadcasters reach their current peaks and move into creating pioneering changes in the broadcasting and entertainment industry.
Applications for the 2023 mentorship are now open until the 15th of December 2022. Send your motivational letter and CV to info@chrisjordanmedia.net
Who is Primedia?
Primedia, established in 1994, is a leading African focused media and advertising group targeting premium consumers on the move. We have a broad portfolio of broadcasting and out-of-home assets, covering a wide range of advertising opportunities including radio stations and in mall media.
The Primedia Group is owned by the Mineworkers' Investment Company (MIC), Ethos, the FirstRand Group and the Old Mutual Group (Old Mutual Private Equity and Old Mutual Specialised Finance) who are our major shareholders.
In addition to South Africa, Primedia currently has an established presence in several key African markets, including Botswana, Namibia, Zambia, Mozambique, Swaziland, Lesotho, Nigeria and Zimbabwe.
Download our latest BBBEE Certificate here
Our People and Culture
We consistently live our values, treat all individuals in a fair and respectful manner, and strive always to act in accordance with ethical guidelines and statutory requirements. All day-to-day work is aligned with the Primedia vision and we buy-into our mandate to empower people to make smart choices; rewarding, recognising and celebrating people and achievements.
At Primedia we value strong networks and working relationships that are underpinned by teamwork, open communication, trust and respect. We invest time and other resources to build and nurture high-performing teams – earning each other's trust, providing constructive feedback and holding ourselves and others accountable for performance development.
We run various programmes for members of the Primedia family. Employees are enabled to build capacity and develop their skills through accredited and nationally recognised training initiatives. We offer our leaders personalised opportunities to grow and develop leadership potential; a core component of our leadership succession strategy.
---
Bookmark this page to see all the growing efforts of our Rising Stars, Panel discussions with our All-Stars, and a true 1st for South African radio.
Please don't forget to tag us at www.chrisjordanmedia.net in any posts you make if our journey inspires you to grow on your own path
Hashtags: #allstars #mentorship2021 #risingstars #radio #learning