5. The 5FM Breakfast Team
Radio 5FM's new breakfast show introduced Dan Corder, Xoli Zondo (sport), Mathapelo Moloi (news) and Marli van Eeden (traffic) in April 2021. The team got off to a great start, enjoying every minute of being on air.
They're a mixed bag of talent – from campus to community, regional radio and TV. This 5FM get-to-know-the-new-presenters series chats to the 5 Breakfast team about their introduction to the station and what they get up when they're not on air.
Listen to 5 Breakfast from Monday to Friday from 6am to 9am.
How have the last few weeks been at 5FM?
Dan: "I still cannot believe how lucky I am to be doing this job. I'm even more moved by how delightful this work is, and how much I love it. I mean, I broadcasted a full hour of radio from the back of a horse on Empire Road (in Parktown, Johannesburg) already. That was my job that day! Unreal."
Marli: "It definitely was a rollercoaster of a first week! I still can't wrap my head around how fast everything happened and the fact that I am actually broadcasting on a national station! What an absolute honour! I am also thankful for how friendly everyone has been. Apart from my teammates who have been absolute gems, the rest of the presenters and staff at 5FM have also been super nice! Zanele Potelwa (5 Lunch) and Bibi Mbangula (5 Drive) have helped me get the lowdown on how to do the traffic updates, Stephanie B has reached out to assist me in finding accommodation, so I am really pleased with the team spirit at 5FM. Everyone is super supportive. I can't wait to meet everyone once I get to Joburg (I am currently still in Cape Town)."
Xoli: "It's always difficult to put into words what it feels like to have your dreams become a reality just before your eyes. I feel my heart race just as I'm about to go on air but hopefully with time the nerves will die down. I have the most incredible team and management has been a pillar of support."
Mathapelo: "A hope realised – a dream come true. So, I have spent my days basking in the truth that I am now part of one of South Africa's most iconic brands which is truly an honour and a blessing. 5FM is unapologetically the voice of the youth of South Africa, and words will never be enough to articulate how incredible it is to be able to use mine to express the emotions of my peers on this platform. It's inclusive, so diverse and has the most talented, driven and passionate voices behind the mic's and behind the scenes. The bar has been set so high, but within my first week, I have never been so eagerly excited to spend my mornings adding to the station's rich history."
What's your favourite way to spend a day all to yourself?
Dan: "For me it is always getting to the largest space of nature possible, ideally a mountain or an ocean, but at least a green space, and walking and walking. I always have my headphones so I can alternate between great music and the sounds of the quiet world."
Marli: "I love getting out and about and exploring our beautiful country! Any free time I get, I want to go out and explore. I enjoy nature, so going on hikes or road trips are the best. I also enjoy the arts and history, so spending a day at an art gallery or museum, or any historical site or museum is my thing. I am such a nerd!"
Xoli: "Definitely a day at the spa! I pamper myself unapologetically"
Mathapelo: "Self-care. It has to be doing activities that prioritise my mental and physical well-being and happiness. It starts with the perfect dance playlist, a cup of tea, a bath, a full breakfast, cute outfit followed by a visit to the nail bar and a whole lot of journaling sealed off with a prayer or meditation session."
What kind of music are you into?
Dan: "This is always an impossible question for me. My music taste is just too broad, and my Spotify Discover Weekly is an eclectic mess! I will say that I have really enjoyed some top jazz since I moved to Joburg, and Kopano Jazz Collective has really impressed me."
Marli: "At the moment I am quite into Francois van Coke, I resonate with his music a lot since I come from Bellville in Cape Town (which features in his music). I also like The Kiffness and DJ Cosher, it is impossible not to get up and dance to their music! Also Timo ODV before a night out on the town.
Xoli: "My team is teaching me a lot about pop music, I came onto the station not really knowledgeable on the genre. So far my favourite song is Everything is Changing by Goldfish. It speaks to the beautiful changes happening in my life at the moment."
Mathapelo: "I am a huge Harry Styles fan. His album Fine Line helps me get the energy to start each day. However, locally Msaki has to be on your playlist. Her voice, her music and swift lyrics are emotionally stirring, empowering and shine the light on honest and much needed conversations about our everyday realities as people. I would say, much more like Tracy Chapman, the power of their songs are embodied in their lyrical content."
What's your most used app on your phone?
Dan: "Twitter! Me and the blue bird are best, best, best friends."
Marli: "Definitely Instagram! I love how visual the app is."
Xoli: "WhatsApp."
Mathapelo: "It is extremely tight between Twitter and Uber Eats. It's like the perfect balance of keeping informed with all the latest news and fed at the same time. I am constantly on the go, so these apps help me keep up with my busy schedule.
What's at the top of your bucket list?
Dan: "It's a secret for now, but it involves going somewhere very, very different, that few people have ever gone to. Not to be an annoying radio presenter, but I guess you will just have to tune in to find out!"
Marli: "Since I am moving to Johannesburg, I am going to make it my mission to explore as much of the city of gold as possible! Any ideas of places that are a must see are welcome."
Xoli: "Shark diving before the year ends"
Mathapelo: "At the top would be travelling to my grandmother's house in Gqeberha in the Eastern Cape with all my siblings. The coronavirus pandemic has heart-wrenchingly robbed us of much-needed family time and fellowship. Hopefully, a shot left to either Cape Town or Durban, I need a beautiful stay at the coast so badly. Attempt to conquer one of my fears and go bungee jumping or skydiving. While keeping it simple in 2021, I want to have fun with every experience life brings my way this year. To live in the moment despite the constant hustle and bustle of my late 20's.
4. Nomalanga Shozi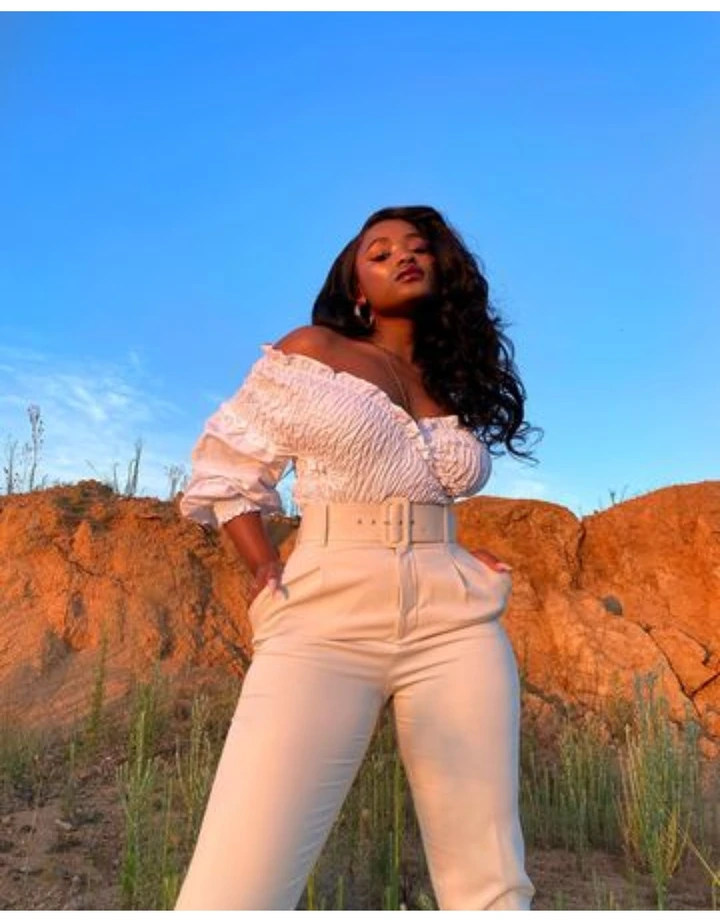 Jessica Nomalanga Shozi is a South African presenter, actress, and radio host. She became popular after debuting her ac
Nomalanga Shozi is a South African media personality and actress. Born and raised in the KwaZulu-Natal area, she knew from when she was much younger than she belonged to the media and acting space.
After a stint at public relations, she delved into the world of acting, popping on flicks like All Access Mzansi, Larger Than Life, and Rhythm City. She's easily one of the memorable faces on South African film, bringing life to all her roles.
Today is it impossible to talk about South African \Film without somehow mentioning her name.
Nomalanga is currently hosting a drive show on Gagasi FM along with Clarissa and DJ Warras, she's also a presenter on BET Africa.
That Drive is an afternoon drive time show, presented by Warras & Nomalanga with Clarissa. The show is a light-hearted choice to end your day. It's a vibey show with a strong emphasis on listener engagement features, audience interaction, and a strong drive towards digital presence that showcases the personalities on and off-air chemistry.
3. Anele Mdoda
Anele Mdoda is not a new name in South Africa, especially in the media industry. She couples up as a radio and TV personality. She is also famous for her vivacious personality and bold fashion sense. Details about Anele's biography take you on a journey through the joys of her existence.
Anele Mdoda has risen gradually to where she is. She started as a radio station host way back in 2004 when she was a student at the University of Pretoria. She has risen from a radio station host to a TV host. She was also lucky to represent South Africa at the 2019 Oscars Awards. She is an icon that people should look up to.
Winning awards is a testament to how much work she has put in growing her career and how it has paid her off. These are the awards she has bagged: Best Daytime Radio Show in South Africa Most Stylish Personality in South Africa Rising Star of the Year Media Magazine 2012 Best Radio Personality in South Africa Nickelodeon Kids Choice Awards
Still pulling her broadcasting weight year after year is Anele Mdoda.
2. The Take-Off (Bongani Mtolo and Nonala Tose)
Award-winning radio presenter, Bongani Mtolo is fast becoming a familiar voice on South African airwaves, now hosting the Breakfast Show on Radio 2000. This family man is husband to Zama Mtolo and father of two boys: Lwazi and Khwezi. The Insider SA joined the Mtolos at Umtamvuna River Lodge in KZN for a family wakeboarding experience.
Bongani shares his startup journey, saying, "I sold cars for nine years and I got to a point where I wanted something more out of life. I remember Zama telling me to rather follow my passion and try the whole radio thing." Zama adds, "I encouraged him to send out a few demos and then eventually they gave him a call."
"We struggled for a long time," Bongani shares. "But the sacrifices have definitely been worth it. I think about all the late nights when I would sleep in the studio. Looking at experiences I can have with my family now definitely makes it all worth it."
Starting at East Coast Radio, Bongani has gradually climbed the radio industry ladder. "Now, I'm hosting the Breakfast Show on Radio 2000," he shares. "What I love most about the people who listen to the show is the fact that they've really warmed up to my honesty. In turn, they've really opened up about their lives as well. I think that the show is an outlet for them to have a voice."
Balancing work and family life may be tough, but it's his incredible wife, Zama, who keeps him grounded. As a successful business owner, Zama knows how to prioritise. Bongani explains, "Zama comes in to balance me. She constantly reminds me and makes notes in my diary, blocking out days so I can dedicate that time to the family."
                                                                                                     
An energetic breakfast-packed show hosted by the award-winning Bongani Mtolo, the winner of the Best Afternoon Drive Commercial two years in a row (2018 & 2019) both with East Coast Radio.                                                                               
He co-presents the show with Nonala Tose, who has worked for Umhlobo Wenene FM and 5FM. This show drives inspiration, information and insight first, is one of the listener's most favorite.  focus is on motivation, job creation, entrepreneurship empowerment, comedy, and good music.
MacG
Though a dismal unpredictable future has been depicted in the news of late for MacG's further podcasting career, he has been the No 1 choice of audio consumption by popular demand this year.
MacGyver "MacG" Mukwevho's Podcast and Chill with Sol Phenduka and The Ghost Lady has been shaking things up in the entertainment industry, from sharing controversial opinions, commenting on hot topics to even having Mzansi's A-listers spill the tea.
It is no wonder that it has become one of SA's biggest podcasts.
At this year's VN Global Media and Entertainment Awards, MacG bagged the Podcaster of the Year award for their trailblazing strides.
"MacG is the voice behind the Podcast and Chill with MacG podcast and has sat down with some of the most influential stars in SA. His network podcast has gone on to open opportunities for other podcasters to shine their light. A recent interview with an SA actor reached 1-million views on his podcast YouTube page," the VN award organizers wrote, explaining why Podcast and Chill were worth being nominated.
Here are some of the most memorable times the podcast stopped traffic on social media:
Natasha Thahane
Actress Natasha Thahane caused a social media uproar when she revealed that she received R1m in funds from the government for her studies at the New York Film Academy after reaching out to politician Baleka Mbete. 
"I asked Mam' Baleka (Mbete) and was like, 'Mama, I need to go back to school. I've been accepted … I don't know what I'm going to do, can I have funds? Please arrange something for me.' She managed to speak to the department of arts & culture and they were able to help me," she said on the podcast.
Natasha has since released an official statement on her social platforms clearing the air, saying that she did not receive funds from the former deputy president.
"She did not make any calls on my behalf and did not send any emails on my behalf and I apologize for diluting the entire scenario because I made it seem like I had a personal relationship with her.
Amapiano vocalist Boohle
Amapiano star Boohle quickly shot to stardom after she collaborated with Cassper Nyovest on their chart-topping single Siyathandana and after her episode on the podcast when she equated the rapper's contribution to the song, to zero.
"This is so disappointing and I've watched it a few times. I won't even explain anything about how this song was written but I got sooo much love for Boohle man. One of the most gentle of souls I've met and we made magic together. May God bless her, May she make many more." Cassper Nyovest responded to the video.
Boohle has not commented on the matter but has since had many of her fans rallying behind her in support.
Celeste Ntuli
Unlike the many controversial episodes on the podcast, comedian Celest Ntuli's episode got her on the top trending list for all the right reasons, with Twitter users giving her props for sharing gems on the show.'She's a gem' — Fans impressed with Celeste Ntuli's wit after her chat with Mac G"Celeste Ntuli is very smart, very funny and very aware of SA challenges."TSHISALIVE1 month ago
Jub Jub
The last episode of Podcast and Chill for 2021 featured a much-anticipated interview with hip hop artist and TV personality Molemo "Jub Jub" Maarohanye and the promo video alone had tongues wagging when he made shocking allegations about his ex-girlfriend and mother of his son Kelly Khumalo.